Well, it sure is muggy this morning.
The good news is that there is relief coming!
That relief is captured in the Weather Service Warning:
THERE IS A MODERATE RISK OF HEAVY RAIN AND URBAN AND POOR
DRAINAGE FLOODING WITH SHOWERS AND THUNDERSTORMS TODAY...
and it doesn't end there!
Tomorrow AND Sunday already have warnings:
THERE IS A MODERATE RISK OF SHOWERS AND THUNDERSTORMS WITH HEAVY
RAIN LEADING TO URBAN AND POOR DRAINAGE FLOODING SATURDAY...

AN ISOLATED SEVERE THUNDERSTORM IS ALSO POSSIBLE ON SATURDAY.

A RISK OF SHOWERS AND THUNDERSTORMS WITH HEAVY RAIN WILL CONTINUE
SUNDAY THROUGH TUESDAY. THERE IS A GREATER POTENTIAL FOR STRONG TO
SEVERE THUNDERSTORMS TUESDAY. 
Thanks to the whole team who dug in yesterday and stained, painted, cut, routed, drilled, bolted, and sanded boards for trail and property signs! We got an IMMENSE amount of work done yesterday, and we have one sign ready to roll for Elmer's Seat in Boylston next Thursday!
Trailhead Conditions at Cascading Waters at 8:30 a.m. (elev. 630'):
Temperature is 72.7 degrees F and steady;
Humidity is 88% and steady;
Pressure is 29.94" of Hg and steady;
Wind is not stirring;
Skies are cloudy;
The Cascades Brook is dry;
The Cascades are not running;
The USFS Fire Danger Class is
LOW
.
(By the way, on the Fire Danger Map, be really really happy that you live out east right now. The western half (and especially the northern portion of that) of the country is looking pretty tough, nevermind the states presently on fire.)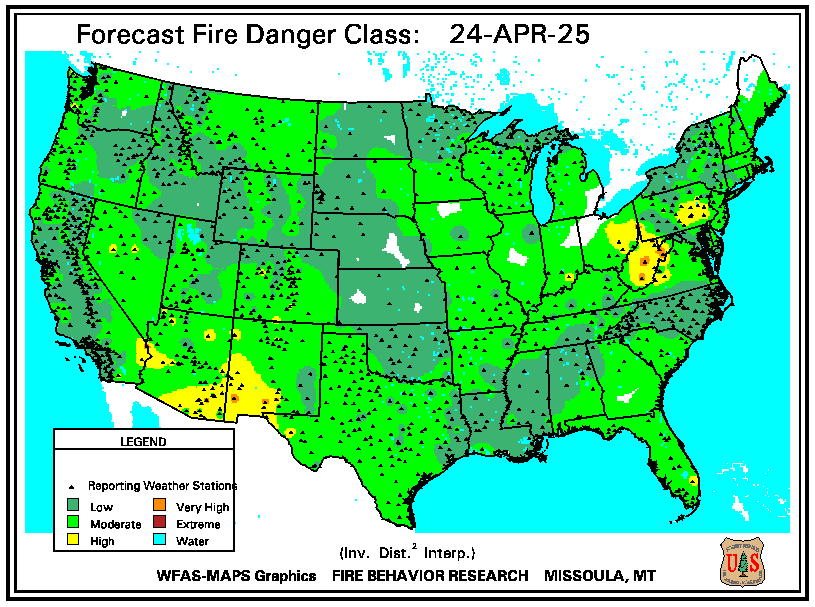 National Weather Service Forecast:
Showers and thunderstorms likely, then showers and possibly a thunderstorm after 11am.
Some of the storms could produce heavy rain.
Patchy fog between 9am and 10am.
High near 78.
South wind around 6 mph.
Chance of precipitation is 80%.
New rainfall amounts between a quarter and half of an inch possible.